Calling all Russell Dickerson fans! Did you know these 12 fun facts about the rising country singer? Test your knowledge here...
Country music artist Russell Dickerson is a rising star on the country music scene. Learn more about this Country artist through this collection of facts!
1. How old is Russell Dickerson (Russell Dickerson Age) ?
The country singer is 35 years old (born on May 7, 1987).
2. Where is Russell Dickerson from?
The first ten years of Russell's life was spent in Union City, a very small town in Tennessee, before he and his family relocated to Nashville.
3. Is Russell Dickerson married (Russell Dickerson Wife)?
Yes, he has been married to his wife Kailey since May 5, 2013 for 9 years. The proposal was a complete surprise in which he sang a short little song ending with the big question! The best part? Kailey had just woken up from a nap and thought she was helping Russell film a video for YouTube!
4. Where did the couple meet?
Both Russell and Kailey attended Belmont University and were a part of the school's vocal performance program. Their relationship began as just friends but then grew into something more!
5. When was his first studio album released?
Yours was the first studio album that Russell dropped back in October 2017. It includes 12 tracks including his first big single, "Yours," as well as the wedding addition to the hit. Since Russell is so in love with his wife, you won't be hearing any cliche break up song on this album!
"People like to get very algorithmic putting an album together — like, you need an uptempo, you need some breakup ballad. I'm like, it's kind of cool to not have that," he explains. "It's an album that doesn't cover every emotion. I don't feel like an album is supposed to do that. It's supposed to represent this time in your life, and I feel like that just naturally kind of happened… I'm ecstatically married and right now we're stoked on life."
6. How much did his music video "Yours" cost?
$6. Yes, you read that right- $6! It was filmed by none other than the inspiration for the song, Kailey! The couple didn't originally tell anybody about the video or have any idea that it would end up going viral. Also, the lightning in the video? Totally unplanned!  This is his most popular music video with over 63 million views as of May of 2022.
7. What awards has Russell Dickerson received?
Russell was nominated for ACM New Male Vocalist of the Year earlier this year. The singer was not expecting this nomination at all and when people were sending him messages about it, it took a minute to click!  Russell's debut single "Yours" is nominated for Song of the Year at the 54th Annual ACM Awards.
"I woke up to about 20 text messages saying 'Congrats!'" Russell recalls. "I was like, congrats for what?"
Then once he realized what was happening he knew who he had to tell. "I was like, 'Holy crap!'" he laughs. "My wife was still asleep, so I woke her up and was like, 'We're going to the ACMs!' I was freaking out. We were not expecting that at all."
8. How is Russell Dickerson so close with the Florida Georgia Line?
Russell, Brian Kelley, and Tyler Hubbard all went to Belmont University together! He considers the duo some of his closest friends and can recall many days before any of them were famous!
"They came to one of my very first shows, ever, in Nashville. And, afterwards, they were like, 'Man, it's so good, we should write songs together,'" Russell reminisces. "They didn't have a band name yet. And so we were writing songs just because we love writing songs. At the time, they were super cool for us, the best songs we'd ever written, all of us."
9.  Does Russell Dickerson have any kids? Russell and Kailey Dickerson welcomed their first son, Remington Edward who was born September 10, 2020.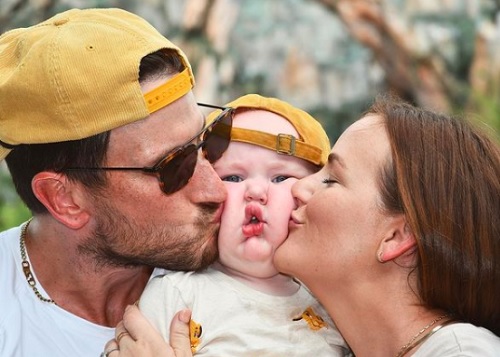 10. How many albums has Russell released? He has released two studio albums.  He released his "Yours" album in 2017 and released his "Southern Symphony" album in 2020.
11. Is Russell Dickerson touring?
Russell is currently touring with Tim McGraw.  In the past, he has been traveling with Thomas Rhett on his Life Changes Tour as well as performing at other various locations. For his full tour schedule and locations check out his website here!
12. What's Russell Dickerson 2nd most popular music video?
His second single, "Blue Tacoma," was released along with the music video 3 years ago! This music video is his 2nd most popular with over 34 million views as of May of 2022.  Watch it below and keep up with Country Fancast for more updates!
Remember to share this with other Country Music fans.