This country star has been in the limelight since the early 1970s. Enjoy these fast facts about Tanya Tucker!
Tanya Tucker is one of country music's most famous female recording artists. Enjoy these quick facts about the star below!
10 Tanya Tucker Facts
1. Tanya released her first song, "Delta Dawn" at the age of 13. The song was released in May 1972, and reached the Top Ten in the country charts.  Watch her perform "Delta Dawn" below!
Tanya Tucker Delta Dawn Video
2. Tanya Tucker dated country star Glenn Campbell from 1980-1981. They recorded a few songs together, most notably being a cover of Bobby Darin's "Dream Lover".
Tanya Tucker and Glen Campbell Dream Lover Video
3. Tanya has three children: Grayson, Presley, and Layla.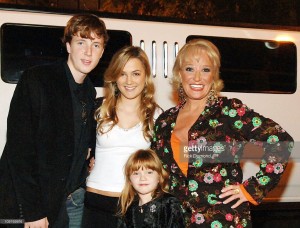 4. In 1991, Tanya Tucker was voted by the Country Music Association for "Female Vocalist of the Year". But, had just given birth to her second child, Tanya missed the event.
5. Tucker is one of the few female artists that belong to the "Outlaw Country" genre. Some other notable artists in this genre include Willie Nelson, Johnny Cash, Merle Haggard, and Waylon Jennings.
6.  Tanya was born in Seminole, Texas on October 10, 1958.  She spent much of her childhood moving throughout the Southwest as her father pursued construction jobs.
7.  After Delta Dawn, her second single, "Love's the Answer," also became a Top Ten hit later in 1972. Tucker's third single, "What's Your Mama's Name," became her first number one hit in the spring of 1973. She achieved two other number ones — "Blood Red and Goin' Down" and "Would You Lay with Me (In a Field of Stone)" that established Tucker as a major star.
8.  Tanya released a tribute song "Forever Loving You" that she wrote for the love of her life: music icon Glen Campbell.  One of the lyrics in the tribue is, "I'd hold you in my arms tonight just like we used to do, and I could leave this world a happy girl forever loving you,"
9.  In a 2016 interview with Dan Rather, Country Music star Tanya Tucker talked about depression and her terrible medical ordeal that burned her face in 2008.  During a routine chemical peel procedure, the laser beam started a fire and burned Tanya Tucker's face.
10.  Tanya Tucker recovered from the incident and went on to become the big Country Music winner at the 2020 Grammy Awards taking home two trophies for Best Country Album as well as Best Country Song for "Bring My Flowers Now" .
Remember to "share" these Tanya Tucker facts with other Country Music fans.