Julianne Hough has plenty of country music connections and also rose to fame on Dance with the Stars.....learn more here...
Discover more about actress, singer, dancer and songwriter Julianne Hough with these 10 interesting facts.
#1)  Julianne Alexandra Hough age – She was born July 20, 1988 and Julianne is currently 35 years old.
#2)  Julianne Hough released a Country Music Album – Her self-titled debut album was recorded in Nashville and produced by David Malloy, who has worked with Reba McEntire and Eddie Rabbitt, among others. Hough's album met with mixed reviews and debuted at number one on the Top Country Albums chart on May 31, 2008 and also peaked at number three on the Billboard 200.  Hough's second single, and the first to be released to country radio, was "That Song in My Head".
#3)  She won and ACM Award – Hough won the Top New Artist award at the 44th Annual Academy of Country Music Awards on April 5, 2009,
#4) She starred as "Jolene" – In 2018, she was cast as Jolene in the episode of the same name from the Netflix anthology series Heartstrings, based on the Dolly Parton song "Jolene".
#5)  She has dated several notable people – Hough dated fellow country singer Chuck Wicks from August 2008 to November 2009; when the two had a mutual break-up, it inspired Hough's song "Is That So Wrong"..  Chuck Wicks went on to marry Jason Aldean's sister (Kasi Williams).  Hough dated Ryan Seacrest from April 2010 to March 2013.
#6)  She married and divorced an NHL Hockey Player – In February 2014, it was revealed that she had begun dating NHL player Brooks Laich, then of the Washington Capitals, in December 2013 The couple announced their engagement on August 18, 2015,and were married on July 8, 2017.  They separated in 2020, but later attempted to reconcile.  Hough filed for divorce on November 2, 2020.
#7)  Julianne Hough is widely know for her role on Dancing with the Stars TV Show – In 2007, she joined the cast of ABC's Dancing with the Stars as a professional dancer, winning two seasons with her celebrity partners.   After leaving the show in 2009, she returned in 2014 to serve as a permanent judge on Dancing with the Stars, a position she held until 2017.  She also returned for season eight, partnering with boyfriend at the time, country singer Chuck Wicks. They were voted off in week eight of the competition and came in sixth place.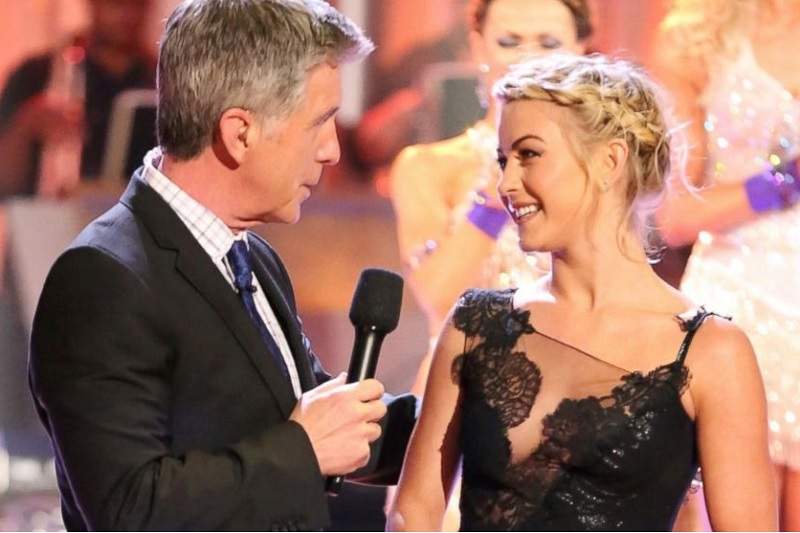 #8)  She comes from a family of professional dancers – Her brother, Derek Hough, is also a professional dancer. She also has three older sisters: Sharee, Marabeth and Katherine.  All four of Hough's grandparents were dancers.
#9)  Julianne is an accomplished actress – Hough made her acting debut in the 2010 film Burlesque, which was followed by leading roles in Footloose, Rock of Ages, and Safe Haven. In 2016, she played Sandy in the live Fox television production of Grease.
#10) Hough served as a judge on America's Got Talent TV Show – She served as a judge on America's Got Talent for its 2019 season.
Remember to "share" these Julianne Hough facts with other fans !!