Luke Bryan's bike accident won't stop him from shakin' it on his Farm Tour!
Before country music star Luke Bryan was set to perform in front of more than 16,000 people at Greenback, Tennessee's Maple Lane Farms for his 2016 Farm Tour he decided to get in a little exercise by riding his bicycle to the event's location.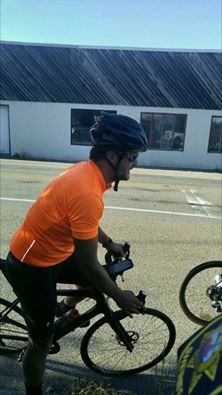 According to local ABC affiliate Channel 6, his trek resulted in a nasty fall that led to a trip to Blount Memorial Hospital where he was treated and released. Bryan took to Twitter to confirm the news and ensure fans that he was fine and ready to put on a show.
Broken clavicle. All good. Show is a go. I'll just have my arm in a sling.

— Luke Bryan (@LukeBryanOnline) October 6, 2016
Luckily for the crooner, he wasn't forced to cancel his second Farm Tour stop and just has to deal with the inconvenience of a broken collar bone. His first planned stop in Gaston, South Carolina yesterday got scrapped due to threats from Hurricane Matthew and evacuation orders for the area.
Luke Bryan Farm Tour 2016 Schedule
October 5: Gaston, South Carolina- Culler Farms (Cancelled)
October 6: Greenback, Tennessee- Maple Lane Farms
October 7: Elizabethtown, Kentucky- Highland Farms
October 8: Monroeville, Indiana- Spangler Farms
October 12: Batesville, Mississippi- FT Farms
October 13: Prairie Grove, Arkansas- Ogden Ranch
October 14: Centralia, Missouri- Stowers Farm
October 15: Effingham, Illinois- Mid America Motorworks
Chris Janson ,Granger Smith, Jon Langston, and the Peach Pickers are also joining Bryan on select dates through Oct. 15th. Prior to all the medical drama that unfolded today, the Georgia native stopped by The Bobby Bones Show and discussed the valuable purpose of his annual Farm Tour.
Enjoy his segment below!

Read an update on Luke Bryan's current status here.